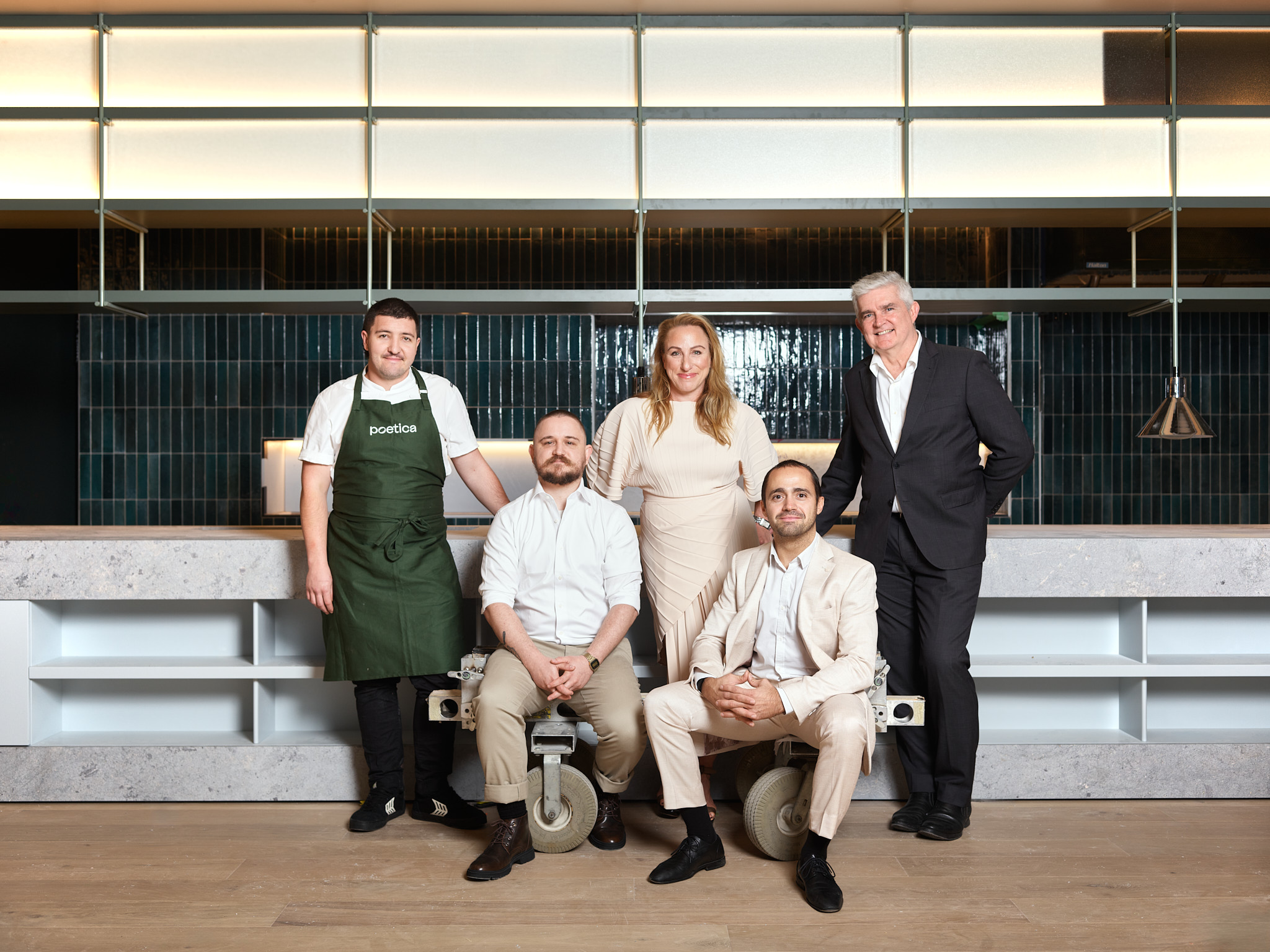 Fire, wood and charcoal are at the heart of Poetica, a refined and relaxed modern Sydney bar and grill, opening 1 September in North Sydney. Reservations are now open for Poetica, a venue by Etymon Projects the hospitality group behind The Charles Grand Brasserie & Bar; Loulou Bistro, Boulangerie & Traiteur, and Tiva. 
Along one side of the 120-seat light-filled restaurant is an impressive 700-bottle wine wall, glass-fronted dry-ageing cabinets, and a 15-metre-long open kitchen featuring a Josper charcoal oven and custom wood-burning hearth. This faces floor-to-ceiling glass windows and doors opening out to four intimate outdoor dining terraces. The adjoining 40-person bar and its outdoor terrace is set to be a lively afternoon -to-evening destination for cleverly curated cocktails that celebrate Australian ingredients.  
"The concept for Poetica was to create a bar and grill that reflects the refined and relaxed style of contemporary Sydney dining. A welcoming vibe that works as well for entertaining clients over lunch as a dinner with friends or a drink after-work. We're excited for Poetica to join North Sydney's growing dining scene," explains Sebastien Lutaud, director of culinary for Etymon Projects (The Charles Grand Brasserie & Bar; Loulou Bistro, Boulangerie & Traiteur; Solotel; Merivale).  
The restaurant menu begins with 10 raw and cooked starters, moving into 'charcoal', 'wood, 'dry-aged', sides, and dessert. Head chef Connor Hartley-Simpson (The Charles Grand Brasserie & Bar; Gastrologik, Stockholm; Quince, San Francisco) delivers a sense of precision, deliberation, and detail in extracting the best flavours from the produce. While there's a noticeable use of charcoal and wood fire, Hartley-Simpson incorporates only where it enhances the flavours. Like charring leek tops in the Josper to create a delicious oil to drizzle over the braised leeks, nori, and Smoke Trap Eel starter. Sydney rock oysters topped with njuda and a guindilla pepper are treated to an ancient wood fire 'flambadou' technique as melted beef fat is dripped from a red-hot cast-iron cone over the top. Order the oysters alongside the crispy focaccia di recco while you decide on the rest.  
"In the kitchen we're focusing on using incredible local produce, dry-ageing in house, cooking with either charcoal or fire where it works, pickling and fermenting to play around with flavours, and really letting the produce be the hero," says Hartley-Simpson.  
A passion for preserving, developed during his time as head chef at Sweden's two-Michelin star Gastrologik, is sampled throughout the menu. The delicate sweetness of scallops is combined with the freshness of yuzu kosho (fermented Australian yuzu peel and chilli), yuzu juice, and thinly sliced celery for textural crunch. Hints of pickled lemon are in the broadbean salad with ricotta while pickled Biquinho peppers add a pop of sweetness and acidity to wood-fired sugar loaf cabbage, smoky grilled butter, and fried garlic. 
If beautifully smoky, slow-cooked big meats are your thing, there'll be something here that does the trick. An ever-changing range of whole sirloins, T-bones and tomahawks hang in the dry-aging cabinet, sliced in-house and served in a variety of ways to keep things interesting. The swordfish, dry-aged on the bone for around seven days, sits above the fire slowly cooking until the last minute when it gets a flash on the hot grill to caramelise. It's served with a buttery roasted fish sauce that is poured tableside. A whole rainbow trout, butterflied and cured then grilled directly over the wood to crisp the skin, is paired with fresh dill, lemon, shallots, and brown butter. The menu is designed with sharing in mind, but many dishes can easily be enjoyed individually, including a slow-cooked pork jowl in black garlic and honey glaze with a chargrilled cos lettuce and vinaigrette. 
There are 450 mostly Australian wines, spanning classics through to young and new wave winemakers, including an exceptional back vintage of iconic winemakers. Director of wine, Paolo Saccone (The Charles Grand Brasserie & Bar; Loulou Bistro; Mimi's) says the list is primarily approachable and interesting with something very special for serious Australian wine aficionados: "We've spent months scouring private collector's cellars to curate an incredible range of almost impossible-to-find vertical back vintages of Australian icons like Mount Mary 'Quintet', Moss Wood, Cullen, Henschke, Rochford, and Craggy Range. We have vintages from as far as 1987 – it's very special".  
It's not all about the restaurant though, Poetica's adjoining bar is reason enough to visit. Light-filled and opening out to its own covered terrace overlooking the bustling street below, the vibe is still refined and relaxed with a little added playfulness. Director of bars, Jonothan Carr has curated around 100 mostly Australian spirits, local craft beers on tap and in cans, as well as 12 cocktails celebrating Australian ingredients. Bar snacks are largely from the restaurant's menu. 
The Poetica team is led by Mathieu Mozziconacci (Loulou Bistro; Felix; Mr Wong) as general manager with Angela Gallo (Totti's Rozelle; Merivale events; Mr Wong) as restaurant manager. Head sommelier Michael Block (Buon Ricordo; Gastro Park; The Bridge Room) brings with him more than 30 years of restaurant experience. While former Barbershop and Rockpool Bar & Grill Perth alumni, Kieran Lee, heads up the bar experience as bar manager. 
A striking 15-metre-long acrylic wall mural by Australian artist Kristian Hawker leads you up the stairs, guided by the aroma of wood and charcoal. In the restaurant, calming sea foam green complements the warm palette of oak timber flooring, walnut and oak furniture with tan and burnt honey upholstery. In the bar, colours focus on stone with baby and steely blue hues and copper accents. Interiors, inspired by the textures of the nearby Sydney foreshore, are by COX Architecture (The Charles Grand Brasserie & Bar; Bert's Allianz Stadium). 
Poetica is the latest venue by hospitality specialists, Etymon Projects, the group behind The Charles Grand Brasserie & Bar; Loulou Bistro, Boulangerie & Traiteur; and sophisticated late-night lounge bar with an element of live music, Tiva. Within Etymon's growing collection of diverse venues, Poetica's refined and relaxed modern Sydney bar and grill distinctly sets itself apart from the European elegance of The Charles, and French neighbourhood bistro-style of Loulou.  
Poetica
(Reservations now open, doors open Friday 1 September)
Mezzanine level, 1 Denison Street, North Sydney   I   poetica.sydney   I  02 9067 4925  I  @poetica.sydney
Open Tuesday to Saturday;
Restaurant: lunch, 12pm – 3pm; dinner, from 5pm
Bar: 12pm – late